Ginny Doucette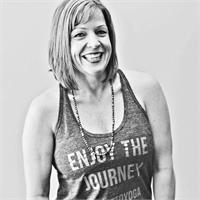 Lead Teacher, E-RYT 500
I started my yoga journey in 2008. I completed a 500-hour Yoga Alliance Teacher Certification program and have taught over 1,000 hours of classes. My passion is helping people feel good about themselves and understanding that we all can keep learning and growing; there is always room for more!
I'm a licensed massage therapist and have been massaging for over 15 years. I'm a proud mother of grown twins, and a grandmother to two. I live in Mesa with my husband and miniature schnauzers, Burberry and Baxter. You can reach me at ginny@mottoyoga.com with any questions.
Ginny Doucette instructs the following:
Beginner to advanced.

This all-levels hot yoga class is accessible to everyone, beginners to experienced students alike. Set to music in a room heated up to 102 degrees and at 40 percent humidity. This set-sequence class uses functional commands to direct students in and out of postures, blending the elements of true Hatha yoga and Ashtanga-inspired vinyasa power flow. You will work the entire body, toning your muscles, promoting a healthy weight, and reducing stress. This class is a journey you can take daily to improve yourself physically and mentally. Classes are 60 minutes.




Beginner to advanced.

This class combines core-building yoga principles, high-intensity interval training, and cardio. This class is challenging, but there is no impact so it is safe for all fitness levels. Modifications are given to accommodate all students. Conducted in a heated room, this high-energy class builds strength and endurance. Props may be used. This class will help you build a stronger core; create long, lean muscles; increase flexibility, and burn fat.




Let's mix some Yin and Yang in a Slow Flow Yin class. Warm-up the body linking breath and movement in a slow, easy flow, then transition into some Yin postures. Yin postures are held 3-5 minutes each, really focusing in on deep connective tissue, ligaments, and joints. The slower pace of this class allows for a more meditative approach. Class is 60 minutes and the room is not heated.




Beginner to advanced.

Patience: Yin Trigger is the perfect complement to your Yang pursuits, which emphasize muscular effort and repetition. In this 60 minute class you'll hold poses for longer periods of time, typically 3-5 minutes each. This practice is slower paced and props may be used to focus on trigger points. You will target and alleviate tightness in deep connective tissue, ligaments, and joints. The slower pace of Yin also allows for a more meditative approach where you can calm that monkey mind. The room is not heated.