Michele Hegwood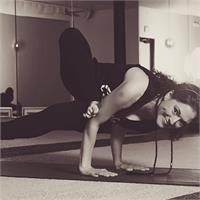 RYT 200
I was forced to find an activity other than running, one that took me out of the elements because of my weakened immune system and problems with my hip, an injury that occurred while completing a half-marathon. Tired of a regular gym workout and in need of something more challenging and beneficial, I came across hot yoga. A free two-week trial at the beginning of Motto Yoga's life turned into a lifetime commitment! And now, through regular practice I not only have a stronger, firmer mind and body, but my immunity has strengthened! My practice has transcended into my daily life, and I'm happy to find myself using the strategies learned through yoga to help balance and nurture my family, mind, and body. I love sharing my practice with my two young children who thoroughly enjoy the playfulness yoga has to offer. My focus is on the healing aspect of yoga and how it can be applied to help restore and repair a person's mental well-being along with their physical. I feel that the two are very-much connected. Because of this interest, I decided to enroll into Motto Yoga's first teacher-trainee program where I received my RYT 200 certification in October 2016. I plan to broaden my yoga teaching through pertinent trainings, workshops and education.
Michele Hegwood instructs the following:
Beginner to advanced.

This all-levels hot yoga class is accessible to everyone, beginners to experienced students alike. Set to music in a room heated up to 102 degrees and at 40 percent humidity. This set-sequence class uses functional commands to direct students in and out of postures, blending the elements of true Hatha yoga and Ashtanga-inspired vinyasa power flow. You will work the entire body, toning your muscles, promoting a healthy weight, and reducing stress. This class is a journey you can take daily to improve yourself physically and mentally. Classes are 60 minutes.




Beginner to advanced.

This class combines core-building yoga principles, high-intensity interval training, and cardio. This class is challenging, but there is no impact so it is safe for all fitness levels. Modifications are given to accommodate all students. Conducted in a heated room, this high-energy class builds strength and endurance. Props may be used. This class will help you build a stronger core; create long, lean muscles; increase flexibility, and burn fat. Room is heated to 95 degrees.




Yoga Medicine Seva Foundation's mission is to fight human trafficking and sexual exploitation by empowering global, impoverished communities through efforts of education and entrepreneurship. Join with us at Motto each month for a special donation class with all proceeds from class going toward the Yoga Medicine Seva Foundation.

GET INVOLVED
This year, Yoga Medicine's Seva Foundation is working with Her Future Coalition and Rescue Foundation to establish a new shelter 45 miles outside of New Delhi, near a Red Light District. This newly constructed shelter is scheduled to open its doors to survivors of human trafficking in 2017 and will house over 100 women and children.

Every donation, no matter how big or small, makes a difference.
$30 – covers healthcare, shelter, nutritious meals, education, yoga and other recreational activities for one woman or child for a month.
$100 – covers vocational training for one woman to gain an income generating trade or skill.

$360 – covers healthcare, shelter, nutritious meals, education, yoga and other recreational activities for one woman or child for an entire year.

$500 – covers a survivor's dream to start or grow her own business. This may include, but is not limited to, fabric & supplies to make clothing, ink and materials for block printing, spices & machinery for grinding or metal & materials for jewelry making.

$1000 – covers an entire year's salary for one teacher or staff member of these shelters that devote their lives to the empowerment of woman and children.

$5000 – covers the college education of a woman who dreams of a better life. Many of the women wish to continue their education beyond what the shelter offers. Becoming a nurse might mean they can help provide healthcare to their entire village or by becoming a veterinarian, provide neutering or spaying to the millions of stray animals in India. This donation creates a brighter future for the woman, her family and their community.