Michele Hegwood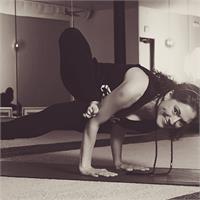 RYT 200
I was forced to find an activity other than running, one that took me out of the elements because of my weakened immune system and problems with my hip, an injury that occurred while completing a half-marathon. Tired of a regular gym workout and in need of something more challenging and beneficial, I came across hot yoga. A free two-week trial at the beginning of Motto Yoga's life turned into a lifetime commitment! And now, through regular practice I not only have a stronger, firmer mind and body, but my immunity has strengthened! My practice has transcended into my daily life, and I'm happy to find myself using the strategies learned through yoga to help balance and nurture my family, mind, and body. I love sharing my practice with my two young children who thoroughly enjoy the playfulness yoga has to offer. My focus is on the healing aspect of yoga and how it can be applied to help restore and repair a person's mental well-being along with their physical. I feel that the two are very-much connected. Because of this interest, I decided to enroll into Motto Yoga's first teacher-trainee program where I received my RYT 200 certification in October 2016. I plan to broaden my yoga teaching through pertinent trainings, workshops and education.
Michele Hegwood instructs the following:
Beginner to advanced.

This all-levels hot yoga class is accessible to everyone, beginners to experienced students alike. Set to music in a room heated up to 102 degrees and at 40 percent humidity. This set-sequence class uses functional commands to direct students in and out of postures, blending the elements of true Hatha yoga and Ashtanga-inspired vinyasa power flow. You will work the entire body, toning your muscles, promoting a healthy weight, and reducing stress. This class is a journey you can take daily to improve yourself physically and mentally. Classes are 60 minutes.




Beginner to advanced.

Recharge with this vinyasa flow inspired sequence that will tone your body, develop flexibility and open yourself up to all the possibilities that lie within you. While this sequence may vary by class, it will emphasize the importance of connecting breath with movement beginning with foundational sun salutations. Additionally, this class may offer more challenging postures including standing balance, arm balancing and inversions. Modifications and variations offered for all poses so that the intensity and challenge accommodates the student. Be prepared to have fun, sweat, tone and break through both physical and mental limitations. Room heated to 95 degrees.