George Charalambous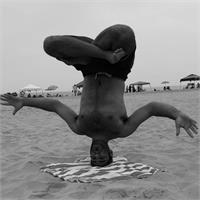 E-RYT 200
I found yoga in 2007 as way to release stress and connect with my inner self. When I enrolled in Teacher Training under the direction of John Salisbury at Dave's Ashtanga Yoga School in early 2015, my intention was to simply deepen my practice. During this training, my knowledge of yoga expanded greatly and I was transformed as a yoga practitioner, physically as well as spiritually. It was then that I felt compelled to share, connect and advance with everyone by guiding students through their practices.
George Charalambous instructs the following:
Beginner to advanced.

Prepare for a rapid flow that will tone your body, increase your flexibility, and open yourself up to all the possibilities that lie within you. Beginning with a Sun Salutation warm-up series, Warrior: Power Flow improves stamina and focus, emphasizing the importance of connecting breath with movement. This class incorporates more challenging postures including standing balance, arm balancing, and inversions. Modifications and variations offered for all poses so that the intensity and challenge accommodates the student. Be prepared to have fun, sweat, tone, and break through both physical and mental limitations. Room heated to 95 degrees.




This class will build strength and flexibility, while healing the body and calming the mind. Follow the Sanskrit vinyasa counts to strengthen your practice, build endurance and challenge yourself. Beginning with the sun salutations, standing postures, the seated postures up through navasana, then finishing postures. All levels welcome in this non heated class building your heat naturally with your ujjayi breath.