Lesley Pelkey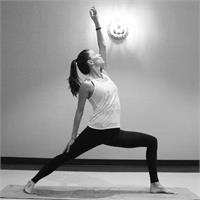 E-RYT 200
Lesley began a consistent practice to yoga in 2007. At the time she was an avid runner, but due to a back injury she needed to seek out other methods of receiving the same meditational and physical benefits. It didn't take long before she realized her yoga practice was providing much more than she initially expected; it had positively changed and influenced who she was.
Lesley's teaching style reflects over a decade of experience working as a coach and teacher of holistic health, wellness and personal development. Her classes are challenging, uplifting and yet approachable. She believes yoga is not only a way to strengthen the body, but strengthen the self. Her approach inspires students to look beyond the physical aspects of yoga both on and off their mats.
Lesley studied with John Salisbury earning her 200 hr RYT certification. In addition, she has also completed Leadership and Trauma Informed Yoga trainings with Seane Corn, Hala Khouri and Suzanne Sterling. Today she continues to further her studies with advanced trainings and education.
Lesley is a Realtor and life wellness coach, helping clients reach their full potential.
Lesley Pelkey instructs the following:
Beginner to advanced.

This all-levels hot yoga class is accessible to everyone, beginners to experienced students alike. Set to music in a room heated up to 102 degrees and at 40 percent humidity. This set-sequence class uses functional commands to direct students in and out of postures, blending the elements of true Hatha yoga and Ashtanga-inspired vinyasa power flow. You will work the entire body, toning your muscles, promoting a healthy weight, and reducing stress. This class is a journey you can take daily to improve yourself physically and mentally. Classes are 60 minutes.




Beginner to advanced.

Prepare for a rapid flow that will tone your body, increase your flexibility, and open yourself up to all the possibilities that lie within you. Beginning with a Sun Salutation warm-up series, Warrior: Power Flow improves stamina and focus, emphasizing the importance of connecting breath with movement. This class incorporates more challenging postures including standing balance, arm balancing, and inversions. Modifications and variations offered for all poses so that the intensity and challenge accommodates the student. Be prepared to have fun, sweat, tone, and break through both physical and mental limitations. Room heated to 95 degrees.




Join with us to raise money to help eliminate cruelty and improve elephant welfare. Stephen Koyle, CEO & Founder of ELEPHANT CARE UNCHAINED, will present us with information about these magnificent creatures and how we can help followed by an all-levels flow donation class led by Lesley Pelkey. Donations accepted at www.elephantcareunchained.com Download our app and pre-register for class at mndbdy.ly/e/190758

Mark your calendar, invite your friends and join us for this special event. Beginners welcome!

Sunday, July 30th 2017

11:30 am – 1:30 pm

11:30am Presentation and Q&A with Steve Koyle

12:30pm Flow with Lesley Pelkey

You are welcome to attend one or both! This is a donation-based class. All proceeds will go directly to funding innovative ways to grow and sustain the mission of Elephant Care Unchained. For more information or to find other ways to help, please visit www.elephantcareunchained.com