Lesley Pelkey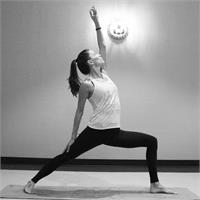 E-RYT 200
I began a consistent yoga practice in 2007. At the time, I was an avid runner and, after sustaining a back injury, I needed to seek out other methods of receiving the same meditational and physical benefits. It didn't take long before I realized my yoga practice was providing much more than I initially expected; it had positively changed and influenced who I was.
My teaching style reflects over a decade of experience working as a life coach and teacher of holistic health, wellness, and personal development. My classes are challenging, uplifting, yet approachable. I believe yoga not only strengthens the body, it also renews the mind and spirit. My approach inspires students to look beyond the physical aspects of the practice both on and off their mats.
I am an E-RYT 200 certified teacher. My passion for creating individual as well as world change has led me to pursue leadership, activism, and trauma informed trainings. Some of my most prominent teachers in those fields include Seane Corn, Suzanne Sterling, and Hala Khouri. In addition, I've completed a 200-hour Kundalini Yoga teacher training with Anahata Yoga and am continuing with advanced trainings and education for my 500-hour certification. I work as a Realtor and Yoga Teacher. I teach at Phoenix-area based studios, corporations and am a lead instructor for Motto Teacher Training.
Lesley Pelkey instructs the following:
Beginner to advanced.

Recharge with this vinyasa flow inspired sequence that will tone your body, develop flexibility and open yourself up to all the possibilities that lie within you. While this sequence may vary by class, it will emphasize the importance of connecting breath with movement beginning with foundational sun salutations. Additionally, this class may offer more challenging postures including standing balance, arm balancing and inversions. Modifications and variations offered for all poses so that the intensity and challenge accommodates the student. Be prepared to have fun, sweat, tone and break through both physical and mental limitations. Room heated around 95 degrees.




Ready to dive deeper into yoga?

In our program you will do the following:

*Learn the maps of alignment, and how to align, demonstrate, cue, modify, and correct poses for all five categories of asana, covering over 100 poses.
*Find your voice and practice leading a group through a yoga practice. Study the learning process and apply those principles in sharing your love of yoga with others. Try-on different teaching styles and understand the qualities of an effective teacher.
*Read yoga philosophies and traditional texts to explore why these traditions have endured for thousands of years and have growing appeal in the West.
*Study anatomy, kinesiology, and physiology as it applies to yoga and learn how to keep your own practice safe and effective while you help your students develop sustainable practices.
*Learn effective yoga business practices and ethics.
*Practice and apply what you've learned in training in a structured mentoring program.




Studies have shown there are two things that can help you live a happier, healthier life:
1) Connecting with others, and
2) Having Fun.

Partner yoga can help you do both! Join Lesley Pelkey, E-RYT, and George Charalambous, E-RYT, for this playful workshop as we invite you to explore connection, support and trust through partner poses.

Partner yoga is not a substitute for an individual practice but is a way to inform and strengthen your capacity to connect to the world around you as well as yourself. Selected postures are non-acrobatic and designed to stretch and strengthen the body.
Here are a few other tidbits--
This workshop is not just for lovers, it's for EVERYONE!
It's a great way to introduce yoga to someone new.
All levels welcome.
No experience and no partner is necessary.
Come and join Us! We think you will find that a partner is the one of the best props you can have!

$35 single, $60 couple. Call 480.819.YOGA to register