Lesley Pelkey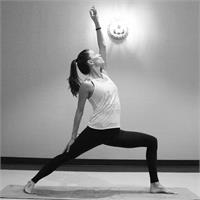 E-RYT 200
Lesley began a consistent practice to yoga in 2007. At the time she was an avid runner, but due to a back injury she needed to seek out other methods of receiving the same meditational and physical benefits. It didn't take long before she realized her yoga practice was providing much more than she initially expected; it had positively changed and influenced who she was.
Lesley's teaching style reflects over a decade of experience working as a coach and teacher of holistic health, wellness and personal development. Her classes are challenging, uplifting and yet approachable. She believes yoga is not only a way to strengthen the body, but strengthen the self. Her approach inspires students to look beyond the physical aspects of yoga both on and off their mats.
Lesley studied with John Salisbury earning her 200 hr RYT certification. In addition, she has also completed Leadership and Trauma Informed Yoga trainings with Seane Corn, Hala Khouri and Suzanne Sterling. Today she continues to further her studies with advanced trainings and education.
Lesley is a Realtor and life wellness coach, helping clients reach their full potential.
Lesley Pelkey instructs the following:
Studies have shown there are two things that can help you live a happier, healthier life:
1) Connecting with Others, and

2) Having Fun.

Partner yoga can help you do both! Join Lesley Pelkey, E-RYT, and George Charalambous, E-RYT, for this playful workshop as we explore connection, support and trust through partner poses.

Partner yoga is not a substitute for an individual practice but is a way to inform and strengthen your capacity to connect to the world around you as well as yourself. Selected postures are non-acrobatic and designed to stretch and strengthen the body.

Here are a few other tidbits--

This workshop is not just for lovers, it's for EVERYONE!
It's a great way to introduce yoga to someone new.
All levels welcome.
No experience and no partner is necessary.

Come and join Us! We think you will find that a partner is the one of the best props you can have!

$25 single, $40 couple, pre-registered. Call 480.819.YOGA to register couple.




Beginner to advanced.

This all-levels hot yoga class is accessible to everyone, beginners to experienced students alike. Set to music in a room heated up to 102 degrees and at 40 percent humidity. This set-sequence class uses functional commands to direct students in and out of postures, blending the elements of true Hatha yoga and Ashtanga-inspired vinyasa power flow. You will work the entire body, toning your muscles, promoting a healthy weight, and reducing stress. This class is a journey you can take daily to improve yourself physically and mentally. Classes are 60 minutes.




Beginner to advanced.

Prepare for a rapid flow that will tone your body, increase your flexibility, and open yourself up to all the possibilities that lie within you. Beginning with a Sun Salutation warm-up series, Warrior: Power Flow improves stamina and focus, emphasizing the importance of connecting breath with movement. This class incorporates more challenging postures including standing balance, arm balancing, and inversions. Modifications and variations offered for all poses so that the intensity and challenge accommodates the student. Be prepared to have fun, sweat, tone, and break through both physical and mental limitations. Room heated to 95 degrees.