David Pascador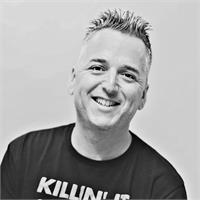 E-RYT 200, YACEP
I was a typical stressed-out guy who couldn't touch my toes. I tried to do and be everything to everyone, many times at the expense of myself. This resulted in an unhealthy lifestyle and high blood pressure. I also developed plantar fasciitis and other related problems due to a snowboarding accident which left me with a broken pelvis.
I found hot yoga in 2010 at age 41 and was hooked immediately. A consistent hot yoga practice along with healthier eating and positive attitude resulted in shedding over 55 + pounds in three years. Hot yoga helped me better manage my mind, ego, and how I handled everyday people and situations. I completed a 200-hour Yoga Alliance Teacher Training Certification and began teaching. I've taught over 1,000 hours and led several foundations workshops. I studied business in college and graduated from the University of North Texas with a degree in business administration.
My daughter and son are two of my favorite yoga students and often help put together playlists for my classes. They always encourage me and inspire me to take my yoga teaching and fatherhood to the next level.
David Pascador instructs the following:
Beginner to advanced.

This all-levels hot yoga class is accessible to everyone, beginners to experienced students alike. Set to music in a room heated up to 102 degrees and at 40 percent humidity. This set-sequence class uses functional commands to direct students in and out of postures, blending the elements of true Hatha yoga and Ashtanga-inspired vinyasa power flow. You will work the entire body, toning your muscles, promoting a healthy weight, and reducing stress. This class is a journey you can take daily to improve yourself physically and mentally. Classes are 60 minutes.




The more you practice yoga, the more important it is to practice mindfully! Join us for a detailed exploration of the poses in the Journey: 60 sequence. Learn functional anatomy and physiology, a basic understanding of the musculoskeletal system and how to correctly align and perform the poses in the sequence. A few key pointers will help you open up those hips, keep your knees safe, and help you move in a way to develop a balanced, strong body. This workshop is useful for both beginning students and those who have practiced for a while and want to review alignment. We'll address common challenges and demonstrate helpful modifications. This is a great opportunity to check-in, ask questions, and receive actionable feedback. $20 pre-register, $25 at door.