Heather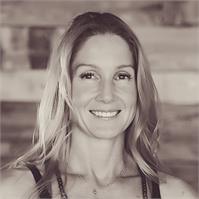 RYT 200
I ventured into a yoga class in 2009 at a friend's suggestion and was in love! I dove deep into developing a personal yoga practice, and it changed my life. Time on my mat not only gave me a great workout, but helped me in life off my mat as well.
I began teaching yoga in 2013. I did yoga teacher training at Southwest Institute of Healing Arts (SWIHA). I love the emphasis of awareness in yoga-- setting an intention, being in the present moment, just being aware of ourselves. Yoga can help in all aspects of living. Fall in love with the process, and the results will come.
I am a nurse and massage therapist, but my favorite role in life is being a mom. I love to hike, go to the beach, SUP, anything outdoors.
Heather instructs the following:
Beginner to advanced.

Prepare for a rapid flow that will tone your body, increase your flexibility, and open yourself up to all the possibilities that lie within you. Beginning with a Sun Salutation warm-up series, Warrior: Power Flow improves stamina and focus, emphasizing the importance of connecting breath with movement. This class incorporates more challenging postures including standing balance, arm balancing, and inversions. Modifications and variations offered for all poses so that the intensity and challenge accommodates the student. Be prepared to have fun, sweat, tone, and break through both physical and mental limitations. Room heated to 95 degrees.




Beginner to advanced.

This all-levels hot yoga class is accessible to everyone, beginners to experienced students alike. Set to music in a room heated up to 102 degrees and at 40 percent humidity. This set-sequence class uses functional commands to direct students in and out of postures, blending the elements of true Hatha yoga and Ashtanga-inspired vinyasa power flow. You will work the entire body, toning your muscles, promoting a healthy weight, and reducing stress. This class is a journey you can take daily to improve yourself physically and mentally. Classes are 60 minutes.




Strength. Balance. Flexibility. Calming that "Monkey Mind." Find all of this and MORE on your yoga mat at Motto Yoga. Join us for a special introductory workshop geared for law enforcement, firefighters, EMTs, paramedics, and other first responders.