Upcoming Courses & Workshops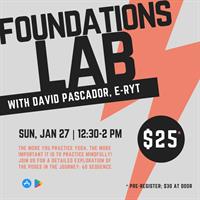 Foundations Lab Workshop

with

David

Pascador
Sun, Jan 27, 2019 at 12:30 pm - 2:00 pm
The more you practice yoga, the more important it is to practice mindfully! Join us for a detailed exploration of the poses in the Journey: 60 sequence. Learn functional anatomy and physiology, a basic understanding of the musculoskeletal system and how to correctly align and perform the poses in the sequence. A few key pointers will help you open up those hips, keep your knees safe, and help you move in a way to develop a balanced, strong body. This workshop is useful for both beginning students and those who have practiced for a while and want to review alignment. We'll address common challenges and demonstrate helpful modifications. This is a great opportunity to check-in, ask questions, and receive actionable feedback. $25 pre-register, $30 at door.
Learn More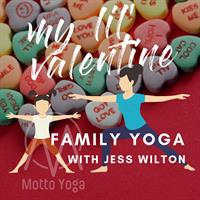 Family Yoga

with

Jess

Wilton
Sat, Feb 9, 2019 at 2:00 pm - 3:00 pm
One hour yoga class families. Kids ages 3+ welcome. Kids must be accompanied by an adult! No unattended adults allowed!
This class is an invitation for adults to experience yoga through the eyes of a child and have FUN!
$30 for one adult and one child, $5 for each additional family member. First adult and child can pre-register online or on our app. Additional family members can be added by emailing us at
hello@mottoyoga.com
or calling 480-819-YOGA.
Learn More