Warrior: Flow $10 Thursdays
This class is taught by: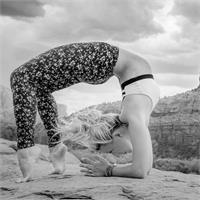 E-RYT 200, RYT 500 In Process
Being a yoga instructor is far more than just a title to me. I am a witness to the powerful impact the practice has on practitioners and have a passion for showing my students how capable they really are. I find a playful balance in the classes I lead between honoring the history and principles of yoga and keeping class fresh and fun. I offer a place for my students to feel safe in their exploration of self and enjoy providing a sweaty and soothing practice filled with laughter and love.
Being a yoga instructor is about much more than just guiding students through a class and showing them how to get into poses. It's much more to me than just accomplishing the next coolest pose and taking my feet off the ground in fancy arm balances (don't get me wrong, I still love to play with them). Being a yoga instructor is about showing students how to serve themselves. Helping students see that they have an internal story and they need to turn down the volume of the outside world in order to read the story of themselves. I am so honored each and every time I am welcomed into a classroom to guide my students.
Before practicing yoga I didn't understand my body. When things hurt or I didn't feel well, I wouldn't be able to see where that pain was coming from. Now, after years of practice I can feel sickness coming. I can tell when things aren't aligned inside of me and I can feel when I need to take time to heal. In the physical sense, the emotional sense and the spiritual sense, yoga has given me magical powers to live my best life. What type of person would I be if I didn't at least try to help others in the same way?
In my classes I like to offer unique explorations of postures and sequences. Class will vary based on who shows up and what the individual students need. Class is not about performing, not for me as the teacher, or you as the student; it is about showing up raw, authentic and ready to listen to your body.
I completed my 200 hour Yoga Teacher Training in 2013 and began my 500 hour training in 2014 with Yoga Medicine. I have completed modules in Chinese Medicine; Myofascial Release; and Hip Anatomy, Dysfunction and Application; Spine Anatomy, Dysfunction and Application; Yin and Meditation; Shoulder Anatomy, Dysfunction and Application.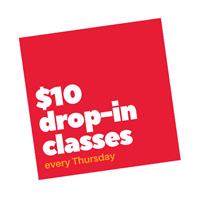 Beginner to advanced.
Recharge with this vinyasa flow inspired sequence that will tone your body, develop flexibility and open yourself up to all the possibilities that lie within you. While this sequence may vary by class, it will emphasize the importance of connecting breath with movement beginning with foundational sun salutations. Additionally, this class may offer more challenging postures including standing balance, arm balancing and inversions. Modifications and variations offered for all poses so that the intensity and challenge accommodates the student. Be prepared to have fun, sweat, tone and break through both physical and mental limitations. Room heated around 95 degrees.
Upcoming classes: