Journey: 60 $10 Thursdays
This class is taught by: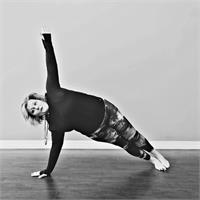 Owner, MBA, E-RYT

I found hot yoga after suffering injuries in a car accident. I was in such bad shape, physically and mentally, I didn't know how I was going to go another 10, 20, 40-plus years in my body. Hot yoga quickly alleviated lots of problems and ignited a passion in healing and recovery.
I have a husband and four kids. It was no small feat finding time for myself on my mat, but I did it. I prioritized that time for myself (Yes! We can do that!) and it has changed my world. Coming to my mat, being aware of my body, my mind, my breath. Moving my body through the poses. Noticing how things change; somedays I improve and sometimes I regress. Some days everything is so hard. And somedays, I do my practice like a boss. (In my mind, at least!) You can never know how it will play-out when you step onto your yoga mat.
I believe we are all our own best teachers; a good teacher will facilitate this innate awareness. I think everyone's bodies and practices are different, and we are all coming to our mats for our own reasons. An awesome teacher, clean studio, hot room, yoga squad, all of it is secondary to the simple act of just getting to your own mat for your practice.
I completed a 200-hour Yoga Alliance Teacher Certification program and launched Motto Yoga as a place for people to gather, heal, improve, relax, just be. And sweat! I've also received additional training in anatomy and kinesiology for Hatha Yoga with Tish Hegel, B.S. Kinesiology, E-RYT, ACSM Personal Trainer; the Myofascial Release Melt Method with Sue Hitzmann, MS, CST, NMT; and Yoga Nidra. I began the 500 hour training program with Yoga Medicine in 2017 and have completed the Spine Anatomy Dysfunction and Application, Myofascial Release, Yin & Meditation, and Cadaver Lab Modules.
I studied business in college and graduated with degrees in marketing and business administration. I love to travel and do hot yoga. I live in Gilbert with my husband, children, and miniature schnauzer, Coconut. Follow me on Instagram at @intention_focused_yoga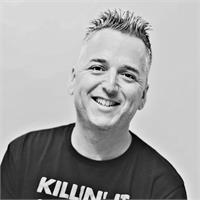 E-RYT 200, YACEP
I was a typical stressed-out guy who couldn't touch my toes. I tried to do and be everything to everyone, many times at the expense of myself. This resulted in an unhealthy lifestyle and high blood pressure. I also developed plantar fasciitis and other related problems due to a snowboarding accident which left me with a broken pelvis.

I found hot yoga in 2010 at age 41 and was hooked immediately. A consistent hot yoga practice along with healthier eating and positive attitude resulted in shedding over 55 + pounds in three years. Hot yoga helped me better manage my mind, ego, and how I handled everyday people and situations. I completed a 200-hour Yoga Alliance Teacher Training Certification and began teaching. I've taught over 1,000 hours and led several foundations workshops. I studied business in college and graduated from the University of North Texas with a degree in business administration.

My daughter and son are two of my favorite yoga students and often help put together playlists for my classes. They always encourage me and inspire me to take my yoga teaching and fatherhood to the next level.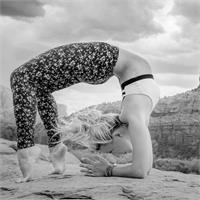 E-RYT 200, RYT 500 In Process
Being a yoga instructor is far more than just a title to me. I am a witness to the powerful impact the practice has on practitioners and have a passion for showing my students how capable they really are. I find a playful balance in the classes I lead between honoring the history and principles of yoga and keeping class fresh and fun. I offer a place for my students to feel safe in their exploration of self and enjoy providing a sweaty and soothing practice filled with laughter and love.
Being a yoga instructor is about much more than just guiding students through a class and showing them how to get into poses. It's much more to me than just accomplishing the next coolest pose and taking my feet off the ground in fancy arm balances (don't get me wrong, I still love to play with them). Being a yoga instructor is about showing students how to serve themselves. Helping students see that they have an internal story and they need to turn down the volume of the outside world in order to read the story of themselves. I am so honored each and every time I am welcomed into a classroom to guide my students.
Before practicing yoga I didn't understand my body. When things hurt or I didn't feel well, I wouldn't be able to see where that pain was coming from. Now, after years of practice I can feel sickness coming. I can tell when things aren't aligned inside of me and I can feel when I need to take time to heal. In the physical sense, the emotional sense and the spiritual sense, yoga has given me magical powers to live my best life. What type of person would I be if I didn't at least try to help others in the same way?
In my classes I like to offer unique explorations of postures and sequences. Class will vary based on who shows up and what the individual students need. Class is not about performing, not for me as the teacher, or you as the student; it is about showing up raw, authentic and ready to listen to your body.
I completed my 200 hour Yoga Teacher Training in 2013 and began my 500 hour training in 2014 with Yoga Medicine. I have completed modules in Chinese Medicine; Myofascial Release; and Hip Anatomy, Dysfunction and Application; Spine Anatomy, Dysfunction and Application; Yin and Meditation; Shoulder Anatomy, Dysfunction and Application.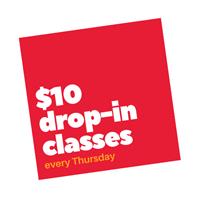 Beginner to advanced.
This all-levels hot yoga class is accessible to everyone, beginners to experienced students alike. Set to music in a room heated up to 102 degrees and at 40 percent humidity. This set-sequence class uses functional commands to direct students in and out of postures, blending the elements of true Hatha yoga and Ashtanga-inspired vinyasa power flow. You will work the entire body, toning your muscles, promoting a healthy weight, and reducing stress. This class is a journey you can take daily to improve yourself physically and mentally. Classes are 60 minutes.
Upcoming classes: