Warrior: Flow
This class is taught by: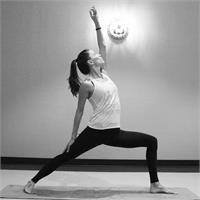 E-RYT 200
I began a consistent yoga practice in 2007. At the time, I was an avid runner and, after sustaining a back injury, I needed to seek out other methods of receiving the same meditational and physical benefits. It didn't take long before I realized my yoga practice was providing much more than I initially expected; it had positively changed and influenced who I was.
My teaching style reflects over a decade of experience working as a life coach and teacher of holistic health, wellness, and personal development. My classes are challenging, uplifting, yet approachable. I believe yoga not only strengthens the body, it also renews the mind and spirit. My approach inspires students to look beyond the physical aspects of the practice both on and off their mats.
I am an E-RYT 200 certified teacher. My passion for creating individual as well as world change has led me to pursue leadership, activism, and trauma informed trainings. Some of my most prominent teachers in those fields include Seane Corn, Suzanne Sterling, and Hala Khouri. In addition, I've completed a 200-hour Kundalini Yoga teacher training with Anahata Yoga and am continuing with advanced trainings and education for my 500-hour certification. I work as a Realtor and Yoga Teacher. I teach at Phoenix-area based studios, corporations and am a lead instructor for Motto Teacher Training.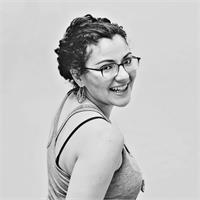 RYT 200
I thought I'd check-out this thing called "yoga" at my local gym in 2010. After one class, I was hooked! Not only did I get a fantastic physical work-out, which I expected, but I got something more that calmed me and actually changed my personality! I found myself becoming more and more stressed and tense with the pressures of daily life, and I didn't like it. A consistent yoga practice brought me a stronger body and a calmer, more focused mind. I am so thankful I found this practice before becoming a parent! Yoga helps me be a better mother and also model a better way for my children.
A fortuitous job change in 2013 led me to yoga teacher training. Yoga had become a part of me and I wanted to share it with others. I completed a 200-hour Yoga Alliance teacher training program and began teaching. I've also completed additional training in alignment and yoga sequencing.
I live in Gilbert with my husband; children; six rescue dogs, Snoopy, Bambi, Ginger, Leah, Pepper, and Wheezy; and cat, Zoe.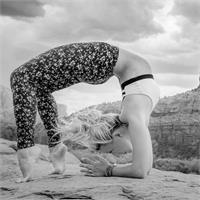 E-RYT 200, RYT 500 In Process
Being a yoga instructor is far more than just a title to me. I am a witness to the powerful impact the practice has on practitioners and have a passion for showing my students how capable they really are. I find a playful balance in the classes I lead between honoring the history and principles of yoga and keeping class fresh and fun. I offer a place for my students to feel safe in their exploration of self and enjoy providing a sweaty and soothing practice filled with laughter and love.
Being a yoga instructor is about much more than just guiding students through a class and showing them how to get into poses. It's much more to me than just accomplishing the next coolest pose and taking my feet off the ground in fancy arm balances (don't get me wrong, I still love to play with them). Being a yoga instructor is about showing students how to serve themselves. Helping students see that they have an internal story and they need to turn down the volume of the outside world in order to read the story of themselves. I am so honored each and every time I am welcomed into a classroom to guide my students.
Before practicing yoga I didn't understand my body. When things hurt or I didn't feel well, I wouldn't be able to see where that pain was coming from. Now, after years of practice I can feel sickness coming. I can tell when things aren't aligned inside of me and I can feel when I need to take time to heal. In the physical sense, the emotional sense and the spiritual sense, yoga has given me magical powers to live my best life. What type of person would I be if I didn't at least try to help others in the same way?
In my classes I like to offer unique explorations of postures and sequences. Class will vary based on who shows up and what the individual students need. Class is not about performing, not for me as the teacher, or you as the student; it is about showing up raw, authentic and ready to listen to your body.
I completed my 200 hour Yoga Teacher Training in 2013 and began my 500 hour training in 2014 with Yoga Medicine. I have completed modules in Chinese Medicine; Myofascial Release; and Hip Anatomy, Dysfunction and Application; Spine Anatomy, Dysfunction and Application; Yin and Meditation; Shoulder Anatomy, Dysfunction and Application.
Beginner to advanced.
Recharge with this vinyasa flow inspired sequence that will tone your body, develop flexibility and open yourself up to all the possibilities that lie within you. While this sequence may vary by class, it will emphasize the importance of connecting breath with movement beginning with foundational sun salutations. Additionally, this class may offer more challenging postures including standing balance, arm balancing and inversions. Modifications and variations offered for all poses so that the intensity and challenge accommodates the student. Be prepared to have fun, sweat, tone and break through both physical and mental limitations. Room heated around 95 degrees.
Upcoming classes: