Nidra with Intention
This class is taught by: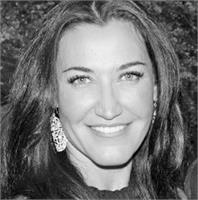 E-RYT 200
Desiree loves fitness and is certified to teach cycle, core, hydrotraining, pilates, and yoga. She received her initial yoga training through YogaFit International, and, eager to learn more and deepen her practice, she continued on to a 200 credit-hour training program through Southwest Institute of Healing Arts (SWIHA) in Tempe, AZ. She has continued her education and training through several courses including, Yin training with Paul Grilley, Yoga Therapeutics with Makunda Stiles, Partner yoga with Cain Carroll, Iyengar yoga, Vinyasa and Slow Burn with Johnny Qest. Desiree has taught yoga for over 12 years.
Her Vinyasa classes are strong, playful and heartfelt. Her Yin classes help students open their bodies with deep connective tissue stretching, allowing an energy flow which cultivates a sense of liberation in the body, mind, and spirit.
Desiree graduated from Arizona State University with a Bachelor's of Arts in Education specializing in Special Education. She is married to her high school sweetheart and has two incredible sons.
Desiree will always be a student of yoga— learning, practicing and seeking to help others thrive in life by nurturing their own bodies, minds and souls.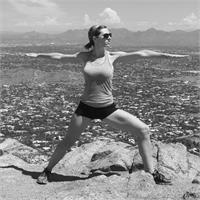 RYT 200
I discovered the joy of yoga in 2010. Yoga has made me a healthier, happier person. I love all of the wonderful benefits achieved through practicing yoga – physical, mental, and emotional – and I enjoy sharing those benefits with others. I received my 200-hour yoga teacher certification at the Southwest Institute of Healing Arts in 2015. Subsequently, I completed a Yoga for Kids and Families teacher training and a 100-hour Amrit Method Yoga Nidra training. In addition to my yoga certifications, I have a bachelor's degree in biology, and a minor in psychology.
When I teach adult classes, my intention is to honor the space for each individual that is present. I am honored to facilitate guided meditations (Yoga Nidra), designed to help people find a deep state of relaxation throughout the body and mind, let go of stress, and connect with the state of inner peace. When I teach children's yoga, I incorporate a lot of play and offer a friendly, easy-going atmosphere. I encourage the kids to practice with kindness, respect, and awareness towards themselves and others. These classes incorporate a variety of methods to keep kids engaged as we practice poses, breathing, and meditation activities. My family classes are very similar to my kids classes. My hope is to remind adults that it's okay to have fun and invite that inner child out to play. In addition to teaching in studios, I have taught yoga in schools (pre-k, elementary, and high school), churches, libraries, and parks. I love painting, visiting National Parks, being outdoors, traveling, spending time with my husband and daughters, and yoga. I look forward to meeting you and your family on the mats!
Grab your favorite pillow and blankies and join us for Yoga Nidra! Nidra is a unique opportunity to plant seeds for what you want to cultivate in your life. We will begin the workshop by discussing how to develop an intention and incorporate it into your yoga practice. Then, we will incorporate the intention into a deeply relaxing session of Yoga Nidra. The added bonus: the sweet experience of stress relief during the busy holiday season!
What is Yoga Nidra?
Yoga Nidra is a sleep-based guided meditation technique designed to allow you to rest below the level of the thinking mind and find a state of deep relaxation throughout the body and mind.
Each session includes guided body awareness, breath awareness, and self awareness. The session may begin with gentle movement as we transition from our busy day to peaceful stillness. This class is not a movement based yoga class; rather, movement is used as a tool to bring you closer to stillness.
What's unique about this workshop?
Did you know that Yoga Nidra allows you to release stress and can also be used to assist with modifying behaviors, modifying thought patterns, and connecting with your higher Self? We will discuss many of the physical, psychological/behavioral, and spiritual benefits that can be experienced through practicing Yoga Nidra.
This workshop will focus on how to integrate intention into your Yoga Nidra practice. We will begin the workshop by exploring "intention". Whether you are experienced with setting an intention for your yoga practice or this is a new concept for you, we will explore methods for choosing an intention and opportunities to plant the seeds of your intention in your Yoga Nidra practice.
Benefits of Yoga Nidra:
Studies show that just 20 minutes of breathing, intentional relaxation, and entering deeper brainwave states (as in sleep), can boost learning, memory, energy, and focus. Additionally, these techniques can lower cholesterol, lower blood pressure, bring the body into balance, and prevent a host of stress-related diseases.
This technique helps reduce symptoms associated with physical, mental, and emotional ailments such as pain, anxiety, depression, and insomnia among others. It also helps by allowing you to disengage from stress-producing thoughts.
Yogis say that 30 minutes of Nidra is similar to getting 3 hours of regular sleep.
$35 pre-register; $40 at door.